Senja
Adventure heaven
Senja is a heavenly kingdom of mountains, fjords, beaches, with infinite opportunities for great nature adventures.
Senja
The adventure-island
Choose Senja as a beautiful setting for unique active adventures.
The island of Senja is perhaps most famous for providing fabulous opportunities for hiking the many vantage points. With fjords and mountains on one side and the open sea on the other the scenery is outstanding. Here you'll live in terrific surroundings at Hamn, the best starting point for all-round nature experiences.

You get here by flying to Bardufoss and then a transfer of approx. 2 hours. Alternatively, you can take the sea route as Senja is also a highly valued destination on the Arctic Haute Route.

Why visit Senja
8 reasons to go
Views out of this world
Summer or winter - Senja is a playground for unique, active experiences throughout the year. In summer, there are hiking routes on the island that provide surreal views. Greenland next!!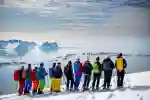 Powder alert with ocean view

If you want to experience the magic of skiing straight down to the ocean, Senja is a wild, beautiful and particularly snow-covered island.

The fjords
To sail in the fjords of Northern Norway in either winter or summer is a remarkable experience, especially with the dramatic contrasts between the fjord and the mountains. A perfect starting point for sightseeing, kayaking, fishing competitions or a relaxing fjord cruise.

Caribbean beaches
Take a trip to Senja and experience the small chalk white coves, Caribbean-style beaches and azure sea - winter and summer.

Local Culture and history
In Senja enjoy the contrast between the traditional and the new in art, culture and nature adventures.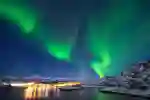 Authentic Senja

Be based in authentic surroundings such as beautiful Hamn. A superb starting point from which to discover what the area offers.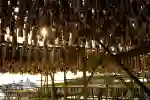 Local Culinary Experiences
Dine on local delicacies in fantastic settings or experience Arctic Adventure Cuisine, developed by Bocuse d'Or chef Gunnar Hvarnes with the best local ingredients from Lofoten.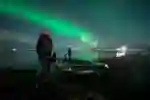 The Northern Lights of the Polar Circle
Experience the magical Northern Lights as they dance the samba across the night sky.

Senja is a kingdom of mountains, fjords and Caribbean beaches.